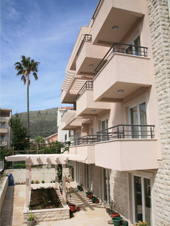 Apartments "HOLIDAY" is located in Brezina, the most beautiful part of Petrovac , and Petrovac is one of the most visited destination on the Adriatic coast. Those who have discovered the charms of family holidays, long beaches and peaceful atmosphere that Petrovac offers its guests, came back again.
Apartments "Holiday" are equipped with modern and luxurious building which was built in 2009.

Guests have at their disposal comfortable and fully equipped apartments, as follows:
14 double-bed apartments - type studio
4 four-bed apartments

It is located near the main beach, and 800m away from the beach Lucice.
Our guests can enjoy as well on terrace (over 150 m2) with beautiful sea view.
We are glad that we can offer you one of the most beautiful and most modern apartments in Petrovac (part of the interior you can see on the page "Gallery").

There is possibility as well to rent a car or transfer service to and from airport for our guests.

Dear guests,
In a hope that we will meet your expectations, combined with our wishes that you have pleasant vocation, thank you for your trust.